Our Practice is Certified in HIPAA Compliance
What does this mean to you as a patient? We make protecting your privacy a top priority!
HIPAA, or the Health Insurance Portability and Accountability Act, is a set of government regulations that protects the privacy and security of patient information ("Protected Health Information") and gives you greater control over its use. HIPAA was originally enacted in 1996 and updated as recently as 2013. It contains many provisions that govern your healthcare providers' legal responsibilities for safeguarding your data.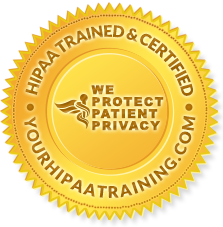 By displaying this Seal of HIPAA Compliance, our practice is signifying to you that every employee who handles your Protected Health Information is trained, tested, and certified in HIPAA compliance. We care about keeping your patient data secure and private, using it only in ways you have specifically permitted, and using it only within the scope of our duties. Whether on paper, on the phone, or online, we are committed to keeping your information safe.